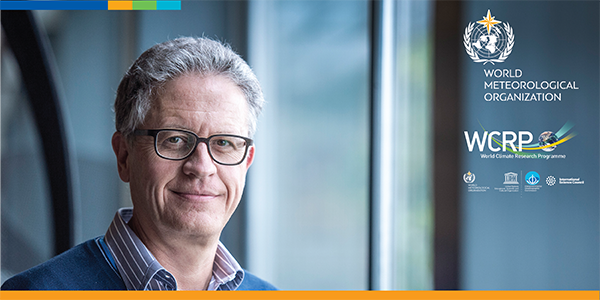 The Climate of Tomorrow: Building the Knowledge for Earth Stewardship
8 May 2019, 16:00
WMO Headquarters, Geneva - Salle Obasi
Video recordings:
See full details of the program below.
---
In May 2019, the World Meteorological Organization (WMO) launched a series of public science lectures, under the leadership of WMO Chief Scientist Pavel Kabat. World-leading experts in the fields of weather, climate, water, the environment, and other related areas will be invited under this initiative to lecture and dialogue with the WMO community, partner organizations and other Earth system professionals. The inaugural lecture was co-organized with the World Climate Research Programme (WCRP).
Professor Thomas Stocker, Professor of Climate and Environmental Physics at the University of Bern and former Co-chair of Working Group I of the Intergovernmental Panel on Climate Change (IPCC) presented a lecture that will examine the path we have taken to reach today's firm scientific basis on climate change, which has led to five comprehensive assessment reports from the Intergovernmental Panel on Climate Change (IPCC) and to the Paris Agreement of the United Nations Framework Convention on Climate Change. He discussed the contributions of the World Meteorological Organization (WMO) and its World Climate Research Programme (WCRP) to climate science and outline four specific challenges for WMO and its programmes that will need to be met in order to confront anthropogenic climate change and build the knowledge required for robust and timely Earth stewardship.
This lecture was open to the public. Remote participation was also possible (link now removed).
The framework program around Professor Stocker's lecture included:
A welcome by WMO Secretary General Petteri Taalas, WMO Chief Scientist and Director of Research Pavel Kabat, and Chair of the WCRP Joint Scientific Committee, Detlef Stammer
An address by Luis Alfonso de Alba, the UN Secretary-General's Special Envoy for the 2019 Climate Summit
A high-level panel discussion (see list of speakers below)
Discussion and exchange including audience and panelists

A reception, made possible through kind support by the Federal Office of Meteorology and Climatology, MeteoSwiss
The panel discussion included the following experts:
There was no charge to attend the event. A valid identity document (such as a passport) was required to enter the building.
Recording of lecture:
1. Introductory remarks to WMO's inaugural public science lecture, 8 May 2019
2. WMO inaugural public science lecture by Thomas Stocker on "The Climate of Tomorrow"
3. Panel discussion following WMO's inaugural public science lecture, 8 May 2019
In the news:
Location
World Meteorological Organization Headquarters
7 bis, Avenue de la Paix
CH-1211 Geneva 2, Switzerland