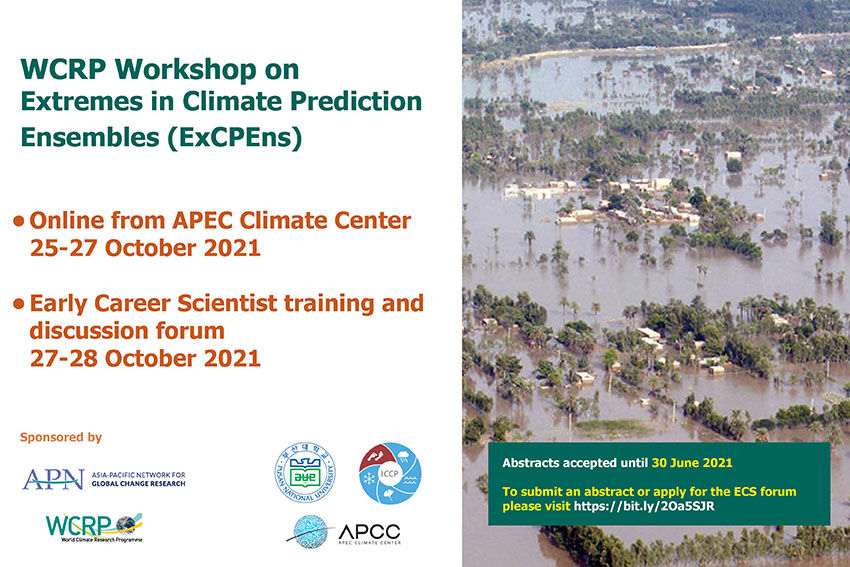 The purpose of the WCRP Workshop on Extremes in Climate Prediction Ensembles (ExCPEns), which will be held from 25 to 27 october 2021 and followed by an ECS training and discussion forum (27-28 October 2021), is to provide a focal point for current research aimed at exploiting subseasonal, seasonal, annual to decadal and longer-term prediction ensembles to improve the prediction and understanding of extreme weather and climate events.
To submit an abstract and to apply for the ECS training and discussion forum, visit the workshop website
Deadline for abstract submission and application for the ECS training: June 30, 2021
To read the brochure, click here
A competition has launched to improve, through Artificial Intelligence and/or Machine Learning techniques, the current precipitation and temperature forecasts for 3 to 6 weeks into the future from the best computational fluid dynamic models available...
This workshop, organized in partnership with My Climate Risk Lighthouse Activity, will be held online from 9 to 15 October 2021. For more information, click the heading above.
The European Space Agency has been selected by the World Climate Research Programme (WCRP) as the host for a new Coupled Model Intercomparison Project (CMIP) International Project Office. For more information, click the heading above.
There is about a 40% chance of the annual average global temperature temporarily reaching 1.5°C above the pre-industrial level in at least one of the next five years – and these odds are increasing with time, according to a new climate update issued by...
Building on the success of the Sea Level 2017 Meeting in New York, the World Climate Research Program (WCRP) Grand Challenge on "Regional Sea-Level Change and Coastal Impacts" will hold the Sea Level 2022 meeting on 11-15 July, 2022 in Singapore. The...
We are soliciting Expressions of Interest from qualified institutions to host the conference and act as a local organizer. Successful applicants will be invited to submit a full proposal. The bidding process will take place in two stages with initial...