WCRP News Articles
13 November 2020
In December 2019, WCRP launched its new Strategic Plan. Throughout this year, the community has been discussing how the plan can be implemented to deliver a new WCRP that is ready to tackle the challenges and take advantage of the opportunities of climate science in the next decade. This will involve simplifying the WCRP structure and launching a number of ambitious new activities. The details of a'soft implementation' of the new WCRP will be decided at the Extraordinary Session of the WCRP Joint Scientific Committee (30 Nov — 3 Dec 2020). To find out what decisions can be expected, click the heading above.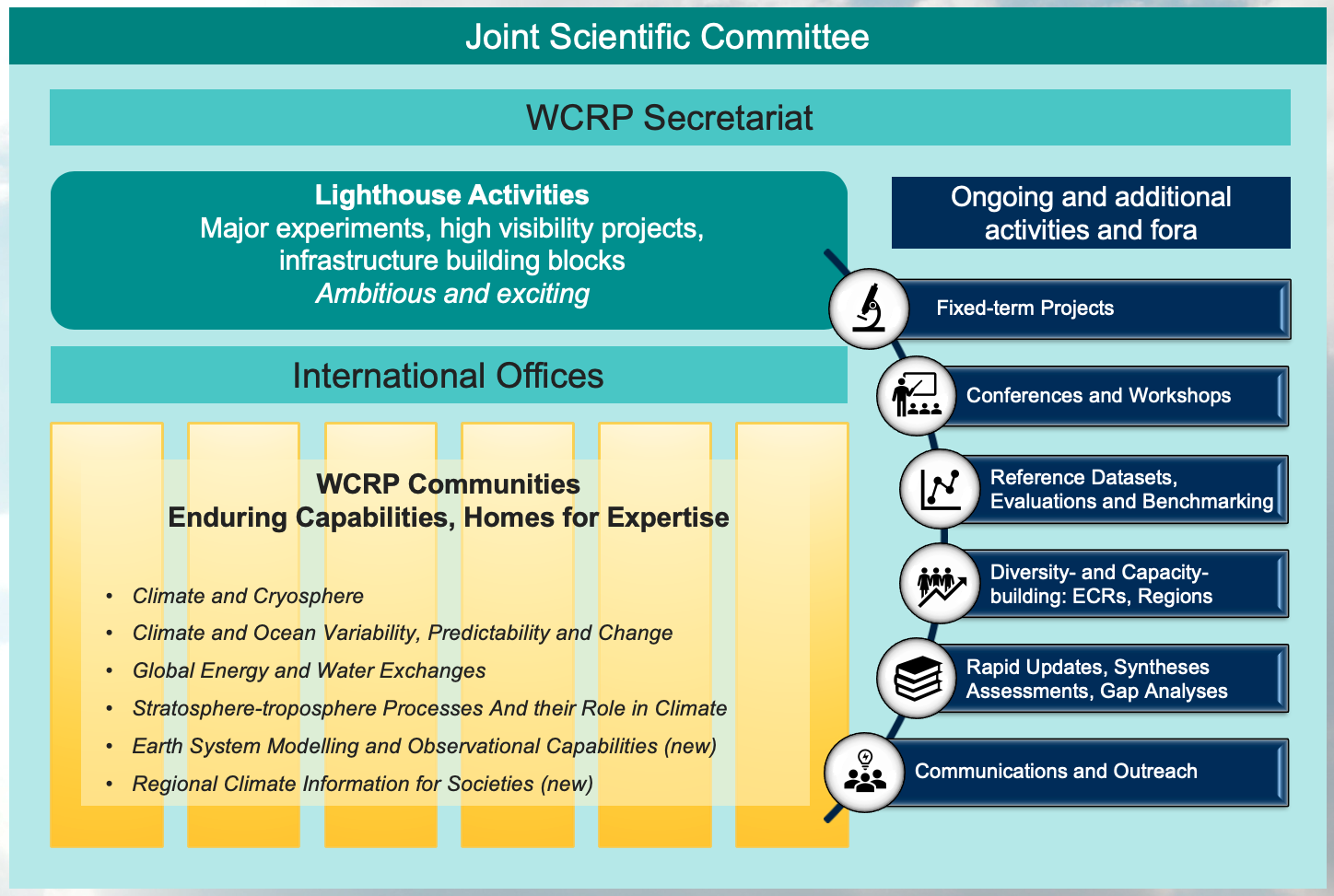 We are delighted to announce that Dr. Mike Sparrow has been appointed as Head of the WCRP Secretariat and Head of the World Climate Research Division, Science and Innovation Department, WMO. To find out more, click the heading above.
A recent study published in Nature shows that under greenhouse warming the trajectories of El Niño response are organized by an El Niño self-modulation mechanism. To read more, click the heading above.
WCRP is happy to welcome two new WCRP Joint Scientific Committee (JSC) members. Both Maria Ivanova and Roberto Sánchez Rodríguez come from a social sciences background and will bring unique and important perspectives to WCRP. To find out more, click the...
CORDEX Central America and South America are organizing an Online Paper-Writing Workshop on Regional Climate Modeling. The workshop will be held on the 24-25 November and 8-9 December 2020.
The European Space Agency (ESA) and the European Geophysical Union (EGU) have announced the ESA–EGU Earth Observation Excellence Award. Deadline: 2 November 2020. Click the heading above for more information.
The International Science Council (ISC) has issued a call for inputs to shape a priority action agenda for science, entitled "Global Call for Priorities for Science." To find out more, click the heading above.