Science Highlights
09 January 2019
Nature Climate Change Perspective
, '
Taking climate model evaluation to the next level
', by Veronika Eyring and others discusses newly developed tools that improve the evaluation of climate models. Advancement in this area is critical for providing the most credible information possible to stakeholders and policy-makers.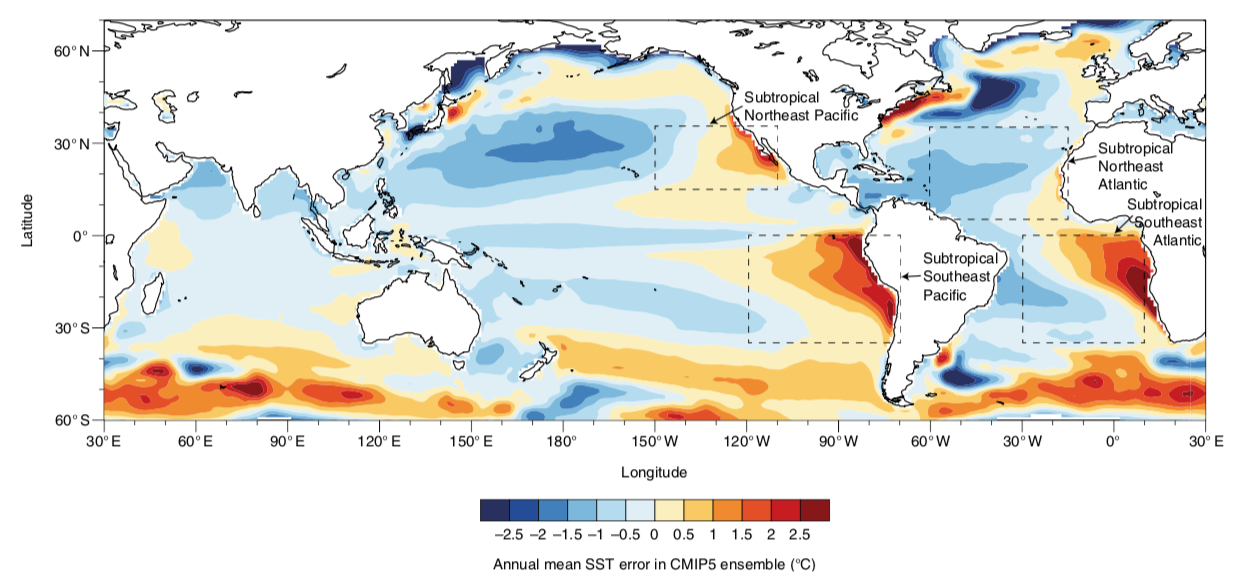 Figure: Annual mean SST error from the CMIP5 multi-model ensemble. Figure reproduced from Wiley (see Eyring et al., 2019).
The 2018 Prize for Model Development and 2018 International Data Prize have been awarded. Click the headline for details.
A collection of articles on Climate and Weather Extremes was recently published in Nature by the S2S community.
The WCRP and Future Earth sponsored Global Carbon Project has published its Carbon Budget 2018 where it estimates that CO2 emissions will rise by a projected 2.7 percent this year, with an uncertainty range between 1.8 percent and 3.7 percent.
We are excited to announce that a new book, entitled 'Sub-seasonal to Seasonal Prediction: The Gap Between Weather and Climate Forecasting', has just been published. To find out more click the heading above.
Don Wuebbles, Scientific Steering Group member of WCRP's SPARC Project, has been awarded the AGU Bert Bolin Global Environmental Change Award for 2018.
The IPCC is inviting expert registrations to review Second Order Drafts of two of its upcoming Special Reports. Click the headline for details.