This week, the Global Carbon Budget 2017 has been published by the Global Carbon Project. This science initiative, which includes several researchers from the WCRP community, has been producing and reporting a global carbon budget annually since 2005. The scientific goal of the Global Carbon Project is to develop a complete picture of the global carbon cycle, including both its biophysical and human dimensions together with the interactions and feedbacks between them.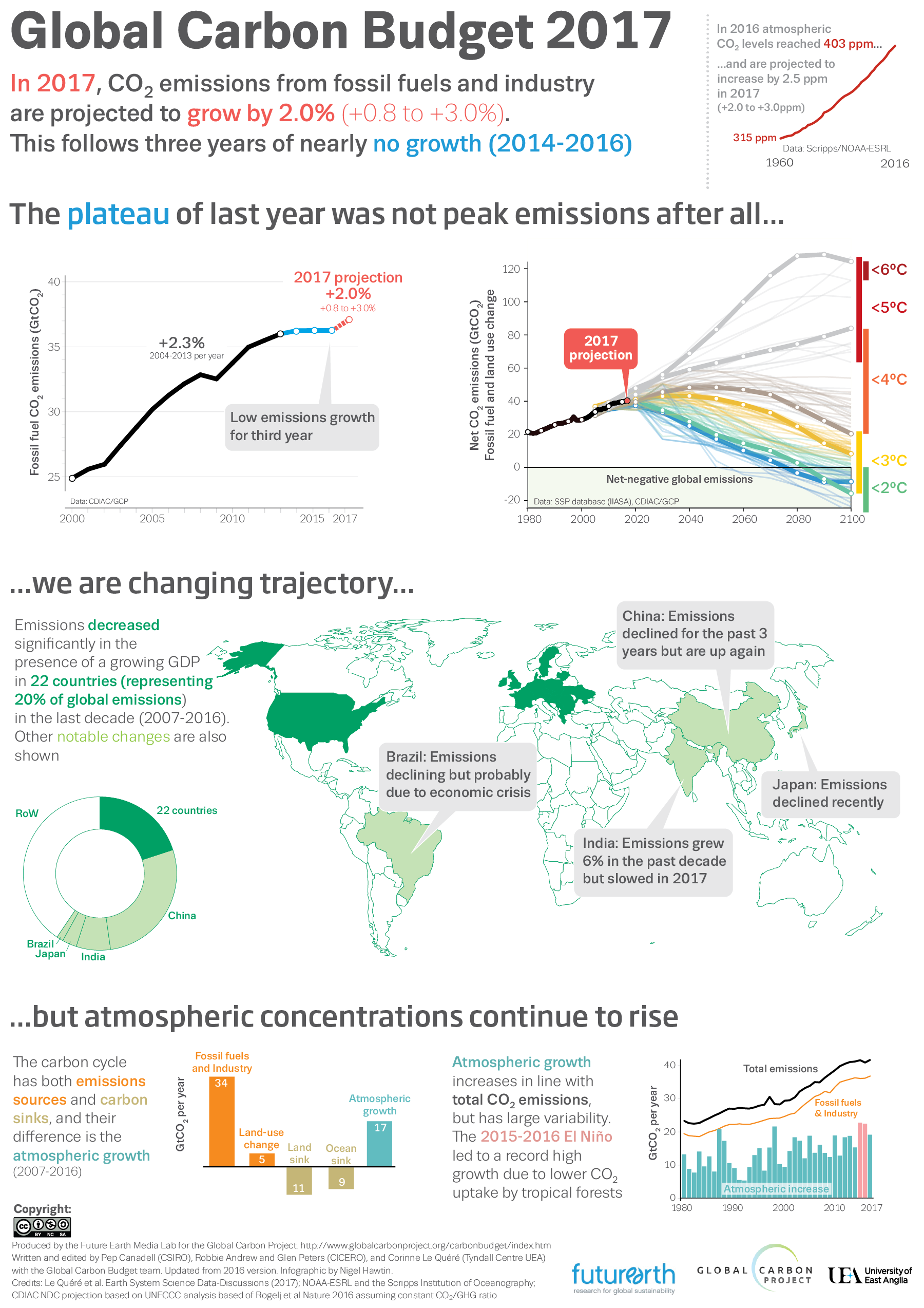 In the current issue of the Budget, the Project's researchers estimate that global CO2 emissions in 2017 will increase by 2% (+0.8% to +3.0%) after three years of almost no growth, reaching a new high record of 10.0±0.5 GtC (36.8 GtCO2). The global atmospheric CO2 concentration reached 402.8±0.1 ppm averaged over 2016, and the atmosphere is projected to accumulate an additional 5.3 GtC in 2017 with an uncertainty around 1 GtC (3.664 GtCO2).
The Global Carbon Project's annual careful accounting of human disturbance of the natural carbon cycle, accompanied by quantification of uncertainties in each source and sink term, allows the research community to understand and monitor major components of and processes within the global carbon cycle.
All Global Carbon Project products demonstrate skillful combinations of observations with models. The Project depends on external measurement networks such as the greenhouse gas network coordinated and supported by the WMO Global Atmosphere Watch programme. Their work also requires a deep engagement with the physical climate community of the World Climate Research Programme (WCRP). The WCRP Carbon Feedbacks Grand Challenge addresses urgent questions about the capacity and durability of the land and ocean carbon sinks as climate changes.
An informational article on the Global Carbon Budget and Project, published earlier this year in the World Meteorological Organization's Bulletin journal, gives further insight into this flagship project of international climate research.
The complete information on the 2017 Global Carbon Budget is available both on the Global Carbon Project's website on the 2017 Budget as well as in the full scientific ESSD article under review:
Le Quéré, C., Andrew, R. M., Friedlingstein, P., Sitch, S., Pongratz, J., Manning, A. C., Korsbakken, J. I., Peters, G. P., Canadell, J. G., Jackson, R. B., Boden, T. A., Tans, P. P., Andrews, O. D., Arora, V. K., Bakker, D. C. E., Barbero, L., Becker, M., Betts, R. A., Bopp, L., Chevallier, F., Chini, L. P., Ciais, P., Cosca, C. E., Cross, J., Currie, K., Gasser, T., Harris, I., Hauck, J., Haverd, V., Houghton, R. A., Hunt, C. W., Hurtt, G., Ilyina, T., Jain, A. K., Kato, E., Kautz, M., Keeling, R. F., Klein Goldewijk, K., Körtzinger, A., Landschützer, P., Lefèvre, N., Lenton, A., Lienert, S., Lima, I., Lombardozzi, D., Metzl, N., Millero, F., Monteiro, P. M. S., Munro, D. R., Nabel, J. E. M. S., Nakaoka, S.-I., Nojiri, Y., Padín, X. A., Peregon, A., Pfeil, B., Pierrot, D., Poulter, B., Rehder, G., Reimer, J., Rödenbeck, C., Schwinger, J., Séférian, R., Skjelvan, I., Stocker, B. D., Tian, H., Tilbrook, B., van der Laan-Luijkx, I. T., van der Werf, G. R., van Heuven, S., Viovy, N., Vuichard, N., Walker, A. P., Watson, A. J., Wiltshire, A. J., Zaehle, S., and Zhu, D.: Global Carbon Budget 2017, Earth Syst. Sci. Data Discuss., https://doi.org/10.5194/essd-2017-123, in review, 2017.
Image credits for title banner image: Flickr user Tony Webster, published under CC-BY-SA 2.0.