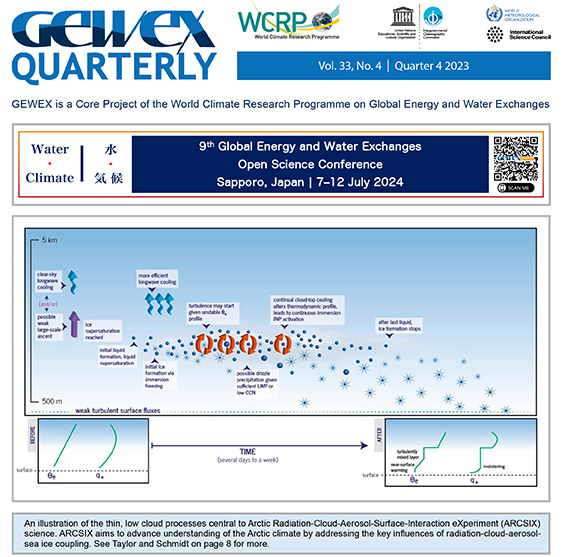 The latest edition of GEWEX Quarterly features articles on:
AGU H3S Fall Highlights: Webinars, AGU Fall Meeting, and New Member Applications
YESS Reporting on Active Engagement at International Science Meetings
In Memoriam: Prof. Dr. Ehrhard Raschke
Integrated Human-Earth System Modeling by Coupling E3SM and GCAM
The Arctic Radiation-Cloud-Aerosol-Surface-Interaction eXperiment (ARCSIX)
... and many other articles
To read the Gewex Quarterly, click here.
The outcomes of the joint WCRP and GCOS workshop are now available
The ESMO International Project Office, based at DKRZ (Germany), is hiring a Scientific Officer and a Science Communication & Engagement Officer.
Register now for the third webinar in the Safe Landing Climates Discussion Series.
The second webinar in the Monsoon Panel Webinar Series will be on Asian-Australian monsoon. Register now.
WCRP is delighted to announce the new Digital Earths Lighthouse Activity webinar series.
Join us for a webinar that will discuss this and more on 7 November 2023, 15:30-17:00 CET.