WCRP is looking forward to participating in the American Geophysical Union (AGU) Fall Meeting 2021. More details will be added here in due course, but we will be convening a WCRP Town Hall and there will be a number of WCRP co-sponsored sessions.
WCRP Sessions at AGU
Three of the WCRP Lighthouse Activities have had sessions approved for the AGU Fall Meeting. The My Climate Risk and WCRP Academy Lighthouse Activities will have special sessions with invited talks and the Safe Landing Climates Lighthouse Activity is convening a science session.
---
Abstract Submission (Deadline: 4 August 2021)
Please consider submitting an abstract to the WCRP Safe Landing Climates session: (click image to enlarge)
GC077 - Safe Landing Climates WCRP Lighthouse Activity: Avoiding Extreme Climate Risk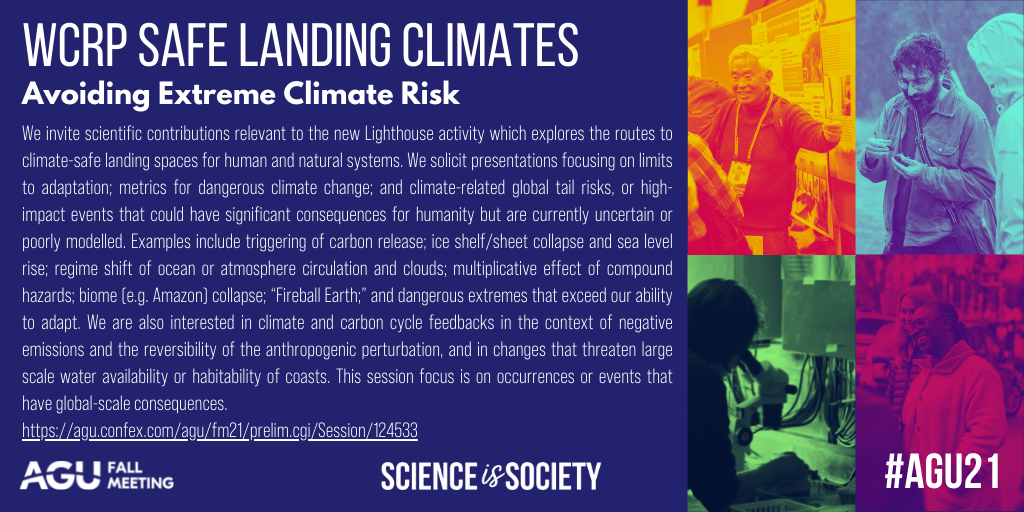 Invited speakers:
Ricarda Winkelmann, Potsdam Institute for Climate Impact Research, Germany. "Interacting tipping elements increase risk of climate domino effects under global warming."
Vanessa Schweitzer, University of Waterloo, Canada. Title to be confirmed.
---
In addition, WCRP has a number of other co-sponsored sessions. Please see the outlines below to submit your abstracts. If you have a session that you would like to list as co-sponsored by WCRP, please get in touch (see contact details below).
WCRP Contact: This email address is being protected from spambots. You need JavaScript enabled to view it.