The WCRP 'My Climate Risk' Lighthouse Activity welcomes several new hubs from around the globe into its international network – and more are expected to join soon. The new hubs will add to the interdisciplinary exchanges around the issue of context-specific climate risks through exciting and diverse activities that we have already seen from the established hubs.
What is the 'My Climate Risk' Lighthouse Activity and what aim does it pursue?
WCRP's My Climate Risk Lighthouse Activity aims to develop a new framework for assessing and explaining regional climate risk that will make climate information more meaningful at the local scale, in order to empower local communities to make sense of their own situation.
To reach this aim, My Climate Risk is working with research institutions around the world to form a 'mycorrhizal network' of hubs that will share knowledge and resources to work towards My Climate Risk's goals, supporting an ecosystem of more informal activities. The network of hubs is expected to help WCRP bridge climate information and society by grappling with the complexity of local situations while maintaining methods of analysis simple enough to be interpretable and open to interrogation.
Where are the (new) hubs located? Is there a hub in my region?
There are currently 12 regional hubs (see map below), four of which recently joined the network. The My Climate Risk Lighthouse Activity is pleased to welcome new hubs in India (Indian Institute of Tropical Meteorology), South Africa (South African Environmental Observation Network), Japan (University of Tsukuba) and Niger (Centre Régional Agrhymet). However, the network is still growing - more hubs will be joining My Climate Risk soon! A regular glance at the My Climate Risk hub overview and map is therefore worthwhile.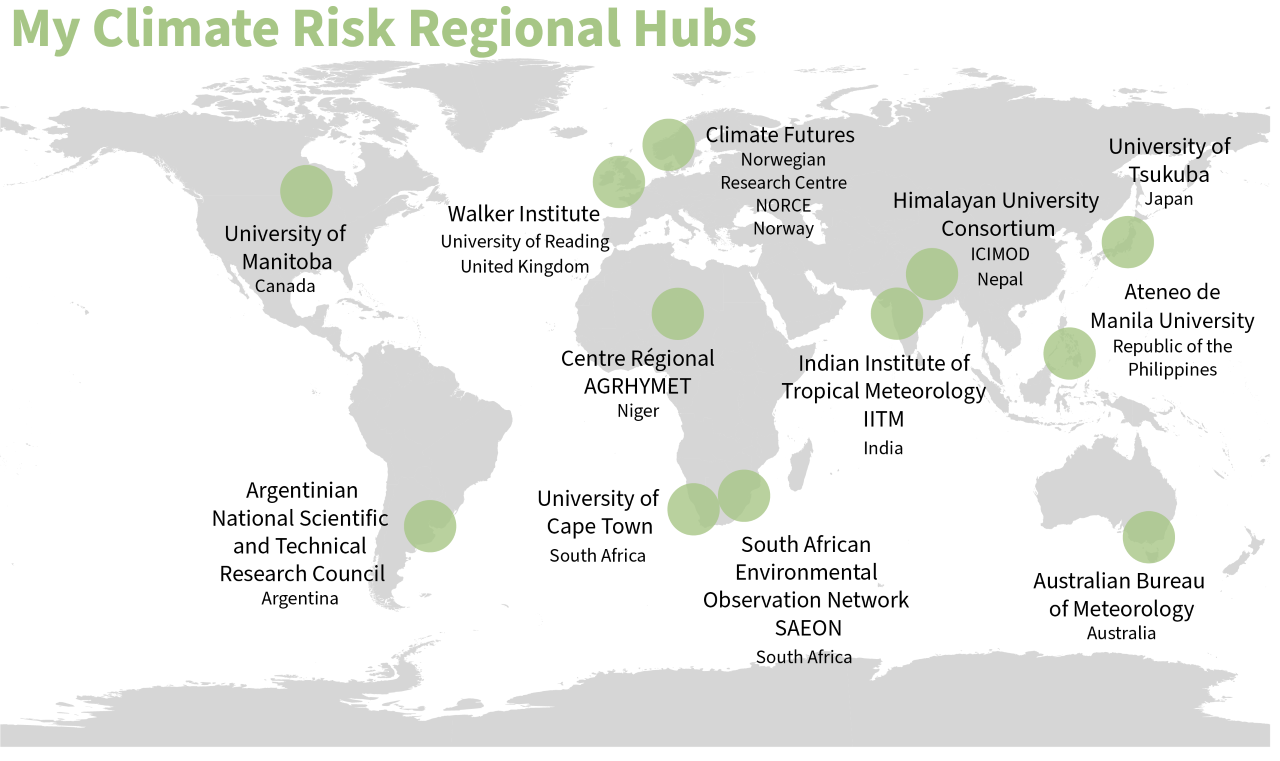 Figure 1: My Climate Risk Regional Hubs as of March 2023.
What has been going on in the hubs and which activities were organized?
The regional hubs are expected to help catalyze a variety of activities following the spirit of My Climate Risk in order to build communities of practice, and to do so mainly from their own resources.  Below we provide some examples of activities that have been implemented as part of My Climate Risk.
A virtual summer school on 'Attribution, causality, and decision-making in climate variability and change' was hosted by the Walker Institute Hub in June 2022. The school included both lectures and practical sessions on event and trend attribution, philosophical issues in attribution, causality and decision-making.
A My Climate Risk webinar series was hosted by the Ateneo de Manila University (ADMU) Hub from October to December 2022. The series was an interesting model for community-building and raising the profile of My Climate Risk within the local community. The first webinar series was titled "Climate Voices on the Ground", which aimed to better understand the local contexts and, hence, the adaptation needs of diverse stakeholders on the ground. The second series was titled "Climate Research as if People Mattered", which sought to explore innovative approaches for climate change research, communication, and risk management from an inter- and transdisciplinary perspective, highlighting research as a means of caring for communities.
Furthermore, with the support of speaking contributions from other hubs, among others, the ADMU Regional Hub hosted the webinar "Open Climate Science: A Panel Discussion on the Meanings and Practice of Open Science" in February 2023. The aim was to discuss, articulate, and navigate the tensions of the meanings and practice of open science in addressing climate change, especially in local contexts.
Another interesting approach for community-building has been and continues to be taken by the Argentinian (CONICET) Hub. Twice a month, an interdisciplinary group meets to learn how to understand each other's language, e.g. the different understandings of storylines, or of risk, between the physical sciences and the social sciences and humanities.
More details on the progress of the hubs and My Climate Risk can also be found in the report of the WCRP My Climate Risk Second General Assembly of November 2022. Further exciting activities at various hubs are being planned and will be announced on the WCRP website in due course.