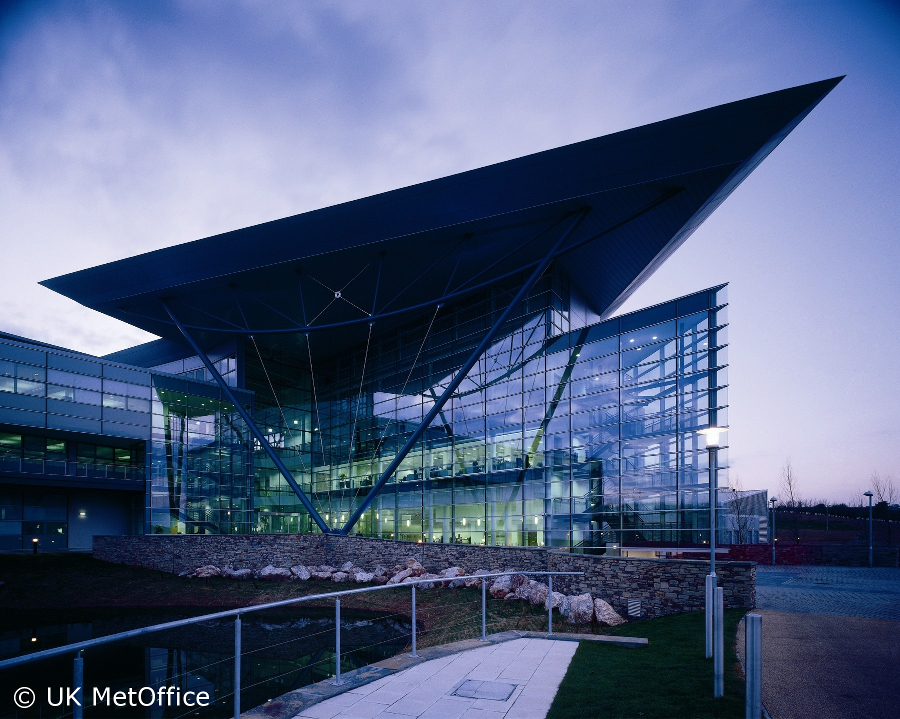 At the initiative of the WCRP Modeling Advisory Council (WMAC), a Pan-WCRP modelling meeting was convened 9-13 September 2017 at the UK Met Office in Exeter, UK. The meeting brought together – for the first time in WCRP history – all its modelling working groups. In addition to regular agenda items being discussed, a common backdrop for the meeting was provided by both the review of WCRP through its sponsors (WMO, IOC and ICSU) as well as the preparation of WCRP's 2019-2029 Strategic Plan. Overall, over 120 international experts on climate and weather modelling from 24 countries attended this milestone event.
A welcome address to meeting participants was given by Prof. Simon Vosper, Director of Meteorological Science at the UK Met Office, in which he highlighted the importance of foundational science as well as the benefits of addressing weather and climate research in a seamless framework.
Dame Julia Slingo, Chair of the WCRP Sponsor's Review Panel and former Chief Scientist at the Met Office, gave an introductory presentation which underlined the need for seamless predictions across time and space scales to address weather and climate risks. Continuous investments in supercomputing capabilities and model development are required to address those challenges. She emphasized the growing modeling integration towards Earth System Models and noted the increasing hierarchical dependency of the overall modeling enterprise.
Michel Rixen, on behalf of the chair of WCRP's Joint Scientific Committee, Guy Brasseur, provided an update on the process and timeline for the current development of WCRP's 2019-2029 Strategic Plan. He stressed the importance and timeliness of the meeting to further guide the review process and for development of the new strategy.
Keith Williams, speaking on behalf of the President of the WMO Commission for Atmospheric Sciences, Øystein Hov, highlighted the Commission's focus on the six societal challenges of urbanization, integrated GHG information system, high impact weather, water, aerosols, and evolving technology. A particular role is taken by WCRP's Working Group on Numerical Experimentation (WGNE), which serves as link between the Commission and WCRP. He also highlighted the Commission's upcoming Science Summit held a week later in Geneva, focusing on 5 themes: seamless prediction, future infrastructure, science for services, nurturing scientific talents, as well as innovation and resources.
The introductory plenary session proceeded with summaries of activities of the WGCM, WGSIP, WGNE, S2S, CORDEX and OMDP groups, as well as WCRP's sister programmes WWRP and GAW. The remainder of the week was organized in individual and joint sessions, which allowed collaboration around common issues. Breakout group sessions on Wednesday addressed the following topics:
Modelling the regional climate – regional and high-resolution global models
Earth system modelling in WCRP – needs from the physical system and opportunities for collaboration
Modelling infrastructure, data standards and protocols
New observations and the use of models for designing/developing observing systems
Diagnostics, metrics and evaluation
Towards seamless weather and climate predictions
Linking models to user communities
Multi-model synthesis and associated uncertainties
The plenary session on Thursday afternoon started with a summary of the breakout group sessions and a general discussion. This session then closed with an extension of gratitude to Christian Jakob from Monash University for his long service and contribution to numerous WCRP groups, including for his role as co-chair of WMAC, which will conclude at year's end. At the same occasion, the audience welcomed Francisco Doblas-Reyes as Christian's successor in that role from 1 January 2018.
The session of WMAC took place on Friday, in the presence of Dame Julia Slingo, who shared further insight and advice on modeling issues for WCRP. All groups were subsequently invited to summarize the deliberations of their own sessions, which will be compiled into a meeting report.
The Met Office proved to be a natural place to hold the Pan-WCRP modelling meeting. Help and support from the UK Met Office's staff – in particular Keith Williams, Cath Senior and Due Dempster – ensured the very smooth organization and overall success of this event.
Further information, including the meeting's agenda and presentations, are available from the meeting website.