We are delighted to announce that Prof. Detlef Stammer (Germany) will continue as Chair of the WCRP Joint Scientific Committee (JSC) for the next two years and will be joined by Dr. Pascale Braconnot (France) in the Vice Chair role. This is excellent news for the WCRP Community, as both bring a wealth of experience to the positions. Prof. Stammer joined the JSC in 2019 and was immediately elected as the Chair of the Committee. Prior to this, he co-chaired the Scientific Steering Group (SSG) of WCRP's Climate and Ocean Variability, Predictability and Change (CLIVAR) Core Project and the WCRP Grand Challenge on Regional Sea-level Change and Coastal Impacts. Dr. Braconnot has also been involved with WCRP for a long time, in CLIVAR, in the Working Group on Coupled Modelling (2002-2011), in the CLIVAR SSG, and as a member of the JSC since 2019.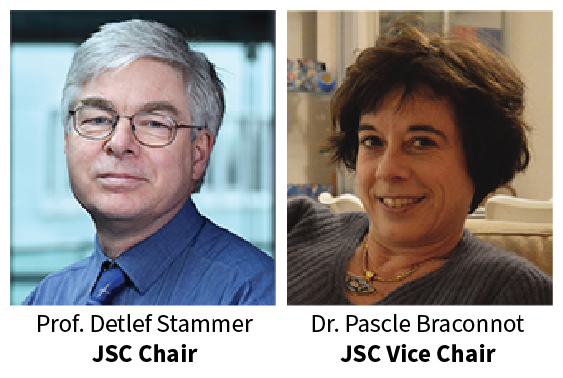 Dr. Braconnot takes over the role of Vice Chair from Dr. Helen Cleugh, who rotated off the Committee at the end of 2022 and to whom the entire community owes a huge debt of gratitude for the incredible work that she has done for the Programme since joining the JSC in 2015. Dr. Cleugh will remain linked to the Programme through her work on the Open Science Conference, but we take this opportunity to thank her and wish her all the best in her future endeavors.
We also welcome four new JSC Members who join the Committee in 2023 for a four-year term. They are Dr. Eleanor Blyth (UK), Professor Amadou T. Gaye (Senegal), Professor Tim Naish (New Zealand), and Professor Cristiana Stan (USA). The new JSC members were appointed by the WCRP Co-Sponsoring Organizations (the World Meteorological Organization (WMO), the International Science Council (ISC), and the Intergovernmental Oceanographic Commission (IOC) of UNESCO), taking into consideration research excellence and considering an overall balance in diversity (geographic, gender, and disciplinary) in the Committee. We look forward to working with the new JSC members.