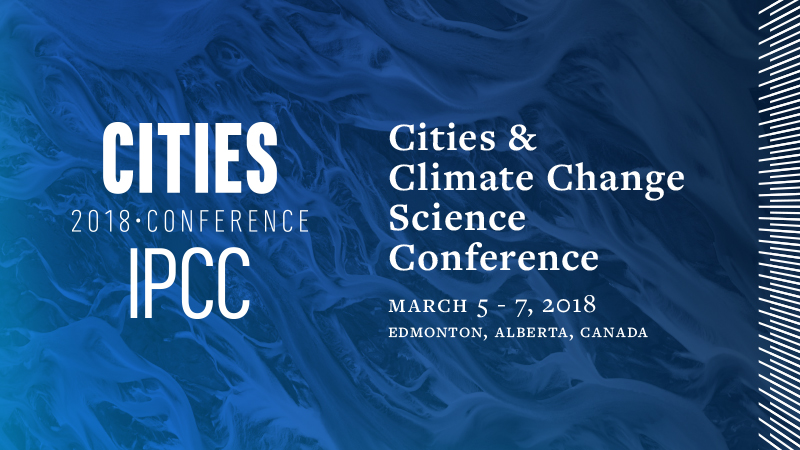 More than 750 climate scientists, urban practitioners and policymakers are meeting in Edmonton, Canada, from 5 to 7 March 2018 to foster new scientific knowledge around climate change impacts on cities, as well as their role in a changing climate. The CitiesIPCC Conference is co-sponsored by the Intergovernmental Panel on Climate Change (IPCC) in collaboration with ten partner organizations, including WCRP. The conference will also provide important support and input to the upcoming IPCC Special Report on Cities and Climate Change. It further aims to support, from a local and cities' perspective, the implementation of the Paris Agreement, the New Urban Agenda adopted at the Habitat III Conference, and the 2030 Agenda for Sustainable Development.
Follow the conference remotely
The conference's primary goal is to assess current academic and practice-based knowledge on cities and climate change. It aims to establish a global research agenda based on joint identification of key knowledge gaps by the academic, practitioner and urban policy-making communities. The conference will also forge partnerships for joint knowledge production. A conference trailer summarizes the relevance of the overall subject area of cities and climate change. The four conference themes are: Cities and Climate Change; Urban Emissions, Impacts and Vulnerabilities; Solutions for the Transition to Low-Carbon and Climate-Resilient Cities; and Enabling Transformative Climate Action in Cities. The conference organizers aim for publication of key findings and for ongoing active pursuit of identified research gaps.
WCRP Involvement
WCRP is a CitiesIPCC partner and a co-organizer of this CitiesIPCC conference. WCRP JSC member Helen Cleugh is a member of the CitiesIPCC Conference's Scientific Steering Committee. WCRP Acting Director Deon Terblanche and Senior Scientific Officer Boram Lee maintain close contact with researchers, urban practitioners and municipal decision-makers on all the conference's themes. In addition, WCRP continues its special effort on early career researchers and professionals to get involved in the 2018 CitiesIPCC conference as well as the broader subject area.