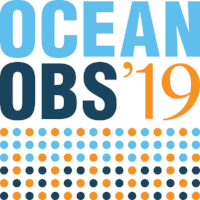 Submission is now open for abstracts of Community White Papers for the OceanObs'19 conference. The finalized Community White Papers will describe aspirations for the coming decade from all interested groups and promote international collaboration and large-scale sustained ocean observing efforts. Each Community White Paper will address one or ideally more of the (anticipated) themes:


Discovery
Ecosystem Health & Biodiversity
Climate Variability & Change
Water, Food & Energy Security
Pollution & Human Health
Hazards & Maritime Safety
Blue Economy
crosscutting theme on data & information systems
crosscutting theme on ocean observing governance.
Based on the initial Community White Paper abstracts, the OceanObs'19 Program Committee will solicit full Community White Papers to be submitted by end of September 2018. The Program Committee may recommend that authors of particular abstracts collaborate and merge the concepts described in separate abstracts to develop a joint Community White Paper. The papers will be peer-reviewed and published in an open access journal before the conference.
Full information is available on the OceanObs'19 homepage. The deadline for submission of abstracts for Community White Papers is March 15, 2018.
The OceanObs decadal conference series convenes the ocean observing communities every ten years to improve coordination of regional and national efforts and the continued integration of ocean observing efforts. Each conference of the OceanObs series features a special focus area, and OceanObs'19 will seek to better connect observers with end user communities.