(versión en español más abajo)
The Argentinean Hub of My Climate Risk (WCRP) invites you to attend the webinar:
How do we address climate risk? Challenges from an interdisciplinary dialogue
June 27th 11:00-12:30 Arg | 14:00-15:30 UTC
This webinar is the first one in a series entitled "Actionable Climate Knowledge." We will address one of the main challenges in producing actionable climate knowledge: how to construct knowledge that is relevant for integration in decisions about risk management in the context of climate change. Three research experiences from different disciplinary perspectives illustrate successful cases in Argentina.
Hub CONICET-Argentina, My Climate Risk - World Climate Research Programme (WCRP)
Contact: This email address is being protected from spambots. You need JavaScript enabled to view it.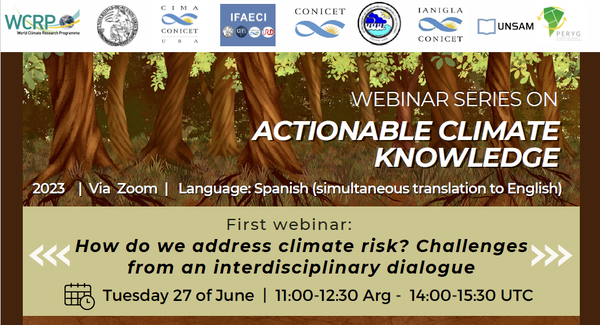 ---

Desde el Hub Argentina de My Climate Risk (WCRP) queremos invitarles a la siguiente actividad:
¿Cómo abordamos el riesgo climático? Desafíos desde el diálogo interdisciplinario
27 de Junio 11:00-12:30 Arg | 14:00-15:30 UTC
Este webinar es el primero del ciclo de webinars "Conocimiento Climático Accesible para la Acción" del Hub Regional del Lighthouse Activity My Climate Risk Argentina de WCRP. Aborda un tema fundacional en el marco de los estudios sobre cambio climático: el riesgo. Uno de los principales retos actuales es cómo construir conocimientos que sean relevantes para integrar en las decisiones sobre la gestión de los riesgos en un contexto de cambio climático. Tres experiencias de investigación desde diversas perspectivas disciplinares ilustran casos exitosos en Argentina.
Hub CONICET-Argentina de My Climate Risk - World Climate Research Programme (WCRP)
contacto: This email address is being protected from spambots. You need JavaScript enabled to view it.