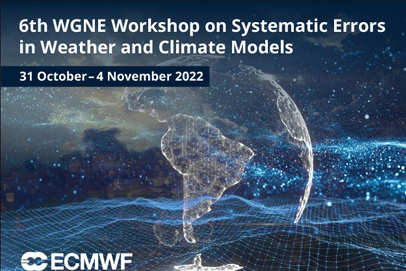 We are fast approaching the abstract submission deadline for the 6th WGNE Workshop on Systematic Errors in Weather and Climate Models hosted by the European Centre for Medium Range Weather Forecasts (ECMWF), in Reading (UK) on 31 October - 4 November 2022. The workshop will bring together a wide range of experts on simulating the Earth System including atmosphere, ocean, waves, land-surface, atmospheric composition, cryosphere, and associated disciplines to advance the understanding of systematic simulation errors at all timescales.
Early career researchers from selected countries will be able to enter a competition for best abstracts for oral presentations. The World Meteorological Organization (WMO) is pleased to offer funding for travel to ECMWF (UK) to the winners of the competition. Please see https://events.ecmwf.int/event/241/page/122-abstract-competition for details.
Abstracts are due 31 May 2022
To know more about the workshop, click here.