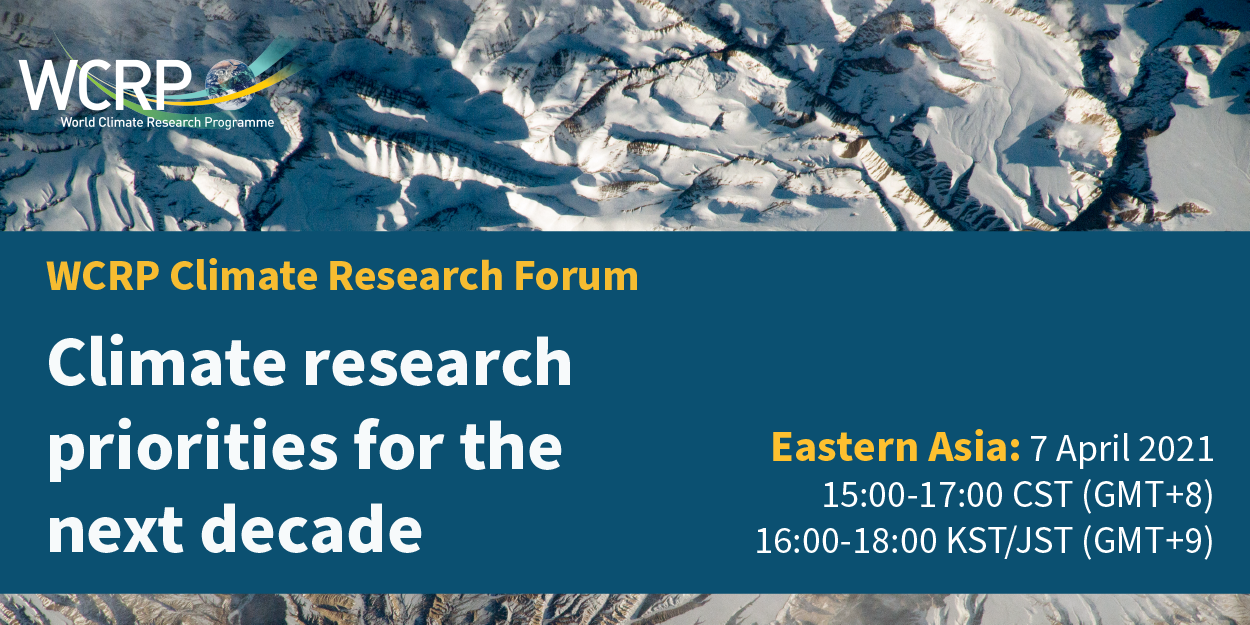 The second session of the WCRP Climate Research Forum "Climate research priorities for the next decade" was held successfully on April 7, 2021. The forum focused on the Eastern Asia region.
This Forum began with an overview of WCRP from the Vice Chair of the WCRP Joint Scientific Committee (the scientific steering body of WCRP) Helen Cleugh, followed by talks highlighting climate science priorities and opportunities for collaboration in the Eastern Asian Region from an agency perspective:
Current methodology for climate prediction in KMA and future research priorities. Dr. Hyunsoo Lee, Director of Korea Meteorological Administration (KMA) Climate Prediction Division.
Climate services from TCC and research needs for future. Mr. Yoshinori Oikawa, Senior Scientific Officer, Tokyo Climate Center (TCC), Japan Meteorological Agency.
Towards understanding changes in extreme weather and climate events in the East Asia Monsoon Region. Prof. Panmao Zhai, Chief Scientist, Chinese Academy of Meteorological Sciences (CMA).
There were then two talks on climate science activities in the Eastern Asian Region:
Third Pole Environment. Prof. Tandong Yao, Academician, Institute of Tibetan Plateau Research, Chinese Academy of Sciences.
How can early career scientists benefit from WCRP? Dr. Minhee Chang, SNU, Korea; Dr. Misako Hatono, Hiroshima University, Japan; Dr. Fei Li, IAP, China; Dr. Qi Shu, FIO, China; Dr. Kanghyun Song, Yonsei University, Korea; Dr. Nobuyuki Utsumi, KUAS, Japan.
This was followed by a discussion.
Below is the recording of the event:
Find more detailed information on the CLIVAR webpage.
Last Updated: 09 April 2021