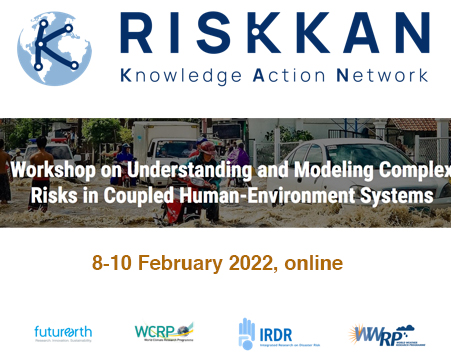 The Risk Modeling and Insurance Working Group of the joint Future Earth, WCRP, IRDR, WWRP "Knowledge Action Network on Emergent Risks and Extreme Events" (Risk KAN) initiative organizes a three-day workshop on Understanding and Modeling Complex Risks in Coupled Human-Environment Systems to bring together scientists and practitioners in the field of modeling risk in human and environmental systems. The workshop will be held online from 8 to 10 February 2022.
Sessions
Day 1: Systemic Risks
Day 2: Advances in Modelling Socio-Economic Impacts
Day 3: Resilience and Adaptation
Deadlines
Abstract submission: 15 Aug 2021 – 15 October 2021

Abstract acceptance: 1 December 2021

Registration: 1 December 2021 – 31 January 2022
To know more about the workshop and to submit an abstract, click here.
Last Updated: 25 August 2021