Overarching Theme: Attribute
What are the contributors to observed extreme events and to changes in the frequency and intensity of the observed extremes?
A key challenge for the community is to provide access to the latest information on how extremes have varied or are likely to vary under a changing climate and a range of greenhouse gas emissions scenarios. The extent to which humans are responsible for changes in extremes and particularly individual extreme weather is a challenging topic.
This is addressed by evaluating change in global or large-scale patterns in the frequency or intensity of extremes (e.g., observed widespread intensification of precipitation extremes attributed to human influence, increase in frequency and intensity of hot extremes) and by event attribution methods. (See implementation plan).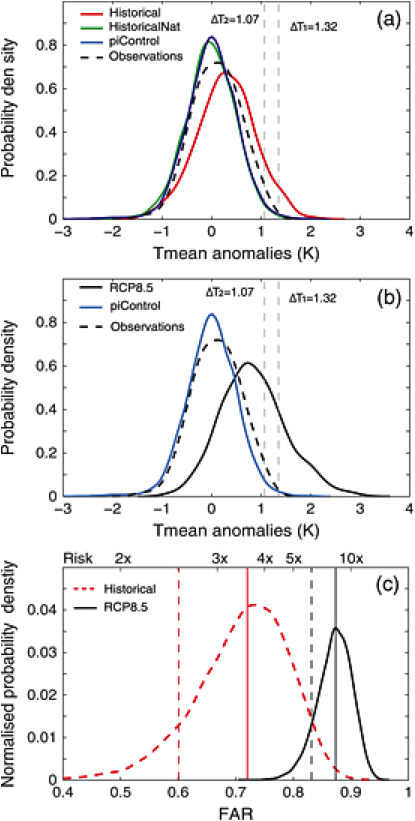 Figure: (a) Probability density functions for Australian summer Tmean anomalies (relative to 1911–1940) for observations (dashed black, all years shown), historical (red, 1976–2005 only), historicalNat (green, all years shown), and piControl (dark blue, all years shown relative to long-term mean) simulations. Vertical dashed lines show observed 2013 anomaly (ΔT1) and threshold of the second hottest summer on record (ΔT2). (b) for RCP8.5 experiment (black, 2006–2020 only). (c) The fraction of attributable risk (FAR) of extreme summer Australian temperatures exceeding ΔT2 for the historical (red) and RCP8.5 simulations (black). Solid (dashed) vertical lines indicate mean (90th percentile) FAR estimates for each experiment (source: Lewis and Karoly 2013).
Related Workshops
Other Overarching Themes: