Senior Scientific Officer
Boram Lee is Senior Scientific Officer of the World Climate Research Programme (WCRP). Her responsibilities include leading the planning and coordination of the WCRP core projects on the Stratosphere-troposphere Processes And their Role in Climate (SPARC) and the Global Energy and Water Cycle Experiment (GEWEX), in close coordination with the respective International Project Offices. She is also in charge of supporting the coordination of WCRP's regional activities through its Coordination Office for Regional Activities (CORA) and with relevant national, regional and international research communities. Boram's responsibility extends to the development of WCRP initiatives on urban climate; monitoring and supporting the implementation of WCRP Grand Science Challenges on Weather and Climate Extremes and on Water for the Food Baskets of the World; and supporting/enhancing partnerships with early career scientists.
Before joining WCRP in 2014, Boram worked for the World Meteorological Organization (WMO), responsible for international coordination of marine meteorological affairs including coastal risk forecasting and warning, through the Joint WMO-IOC Technical Commission for Oceanography and Marine Meteorology (JCOMM). Boram's experience comprises intergovernmental science policy, as well as the development and management of research&development projects in marine meteorology and coastal disaster risk reduction; she has led the development and coordination of the WMO Coastal Inundation Forecasting Demonstration Project (CIFDP).
Boram worked at the Intergovernmental Oceanographic Commission (IOC) of UNESCO from 2003 to 2011 as a Programme Specialist, at the National Institute for Agro-Environmental Sciences of Japan in 2002 as visiting scientist, and at the Korea Meteorological Administration (KMA) from 1995 to 2001 as research scientist. Since 2010, Dr Lee serves as adjunct professor in the College of Ocean Science, Jeju National University, Republic of Korea.
Boram Lee holds PhD in climatology from the Université Paris VI, France, Masters and Bachelors degrees in atmospheric science from the Seoul National University in Korea.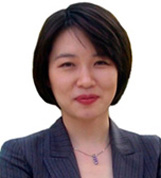 WCRP Joint Planning Staff
c/o World Meteorological Organization
7 bis, Avenue de la Paix
Case Postale 2300

Geneva 2

1211

Switzerland


This email address is being protected from spambots. You need JavaScript enabled to view it.

+41-22-730-8273

+41-22-730-8036