Roberto Sánchez-Rodríguez
Roberto Sánchez-Rodríguez was appointed as a member of the WCRP Joint Scientific Committee (JSC) in 2020.
Roberto is a professor at the Department of Urban and Environmental Studies of El Colegio de la Frontera Norte, a research institution of Mexico's National Council of Science and Technology. He is an emeritus professor of the Department of Environmental Sciences at the University of California, Riverside, and a former director of the University of California Institute on Mexico (UCMEXUS).
His research has focussed on climate change (vulnerability, risk, adaptation, water), disasters risk reduction, the interactions between urbanization and global change, sustainable development, free trade and the environment, and transboundary environmental problems. Prof. Sánchez-Rodríguez was Co-Chair of IHDP's core project on Urbanization and Global Environmental Change (UGEC), and he has contributed to the fifth IPCC and UNEP's GEO5 assessments reports. He is a vice-chair in IPCC Working Group II during the sixth assessment cycle (2016-2022).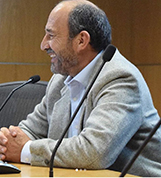 Professor at the Department of Urban and Environmental Studies at El Colegio de la Frontera Norte, Mexico

(Liaison for RIfS)

Email

This email address is being protected from spambots. You need JavaScript enabled to view it.