Pascale Braconnot was appointed as a member of the WCRP Joint Scientific Committee (JSC) in 2019. She was elected as an Officer of the JSC at the 40th Session of the JSC, in May 2019.
Pascale is a researcher at the Laboratory for Climate and Environmental Sciences (LSCE) at the Institut Pierre-Simon Laplace (IPSL) in Paris, France. She is a specialist in climate modeling and paleoclimatology. At present, she is working on the Modelling the Earth Response to Multiple Anthropogenic Interactions and Dynamics (MERMAID) project, using the IPSL Earth System model.
Pascale participated in writing chapters of the 4th and 5th IPCC Reports and received, in 2009, the Milutin Milanković Medal from the European Geophysical Union, awarded for her original work on understanding the relative roles of obliquity and precession during the last interglacial period and, in particular, for her major involvement in the Paleoclimate Modeling Intercomparison Project for the Mid-Holocene.
For more information and contact details see Pascale Braconnot's contact page.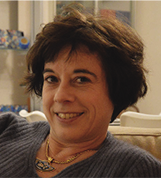 Researcher
Laboratory for Climate and Environmental Sciences (LSCE)
Institut Pierre-Simon Laplace (IPSL)

(JSC Officer & Liaison for CLIVAR)

Email

This email address is being protected from spambots. You need JavaScript enabled to view it.