Professor Martin Visbeck was appointed as an Officer (member with special duties) of the WCRP Joint Scientific Committee (JSC) in 2015. Previously, he was Co-chair of the Scientific Steering Group of the WCRP CLIVAR (Climate Variability and Predictability) Core Project, which facilitates global climate research on the coupled ocean-atmosphere system.
Martin is head of research unit Physical Oceanography at GEOMAR Helmholtz Centre for Ocean Research Kiel and Professor at Kiel University, Germany. His research interests revolve around ocean dynamic and the ocean's role in the climate system, integrated global ocean observation, and ocean sustainable development. His group maintains direct current measurements to document the variability and change of North Atlantic Deep Water transport, a key component of the Atlantic Overturning Circulation. He also works on climate-biogeochemical interactions in the tropical ocean with a focus on the supply of oxygen towards the extensive tropical oxygen minimum zones.
He was the chair of the scientific programme committee of the World Meteorological Organization's Third World Climate Conference in 2009, which called for the development of the Global Framework for Climate Services (GFCS). In 2015 Martin was elected as a Fellow of the American Geophysical Union (AGU), in 2019 he received the Henry Stommel Research Medal of the American Meteorological Society (AMS) and became president of The Oceanography Society (TOS). He chaired the German Future Earth and WCRP Committee (DKN) of the German Research Foundation (DFG) and is the speaker of "The Future Ocean" cluster in Kiel. He is leading a large EU Project on sustained ocean observing in the Atlantic (AtlantOS). Since 2018 he is a member of the Governing Board of the newly founded International Science Council (ISC) and, through his active participation in several national and international advisory committees, Martin Visbeck is involved in strategic planning and decision-making processes about the ocean and sustainable development at a national, European and global level.
For more information and contact details see Martin Visbeck's contact page.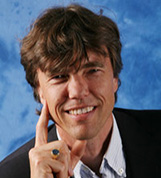 GEOMAR Helmholtz Centre for Ocean Research Kiel

(Liaison for ESMO)

Email

This email address is being protected from spambots. You need JavaScript enabled to view it.