Jens Hesselbjerg CHRISTENSEN
Dr. Jens Hesselbjerg Christensen was appointed as a member of the WCRP Joint Scientific Committee (JSC) in 2015. He was also a member of the WCRP Taskforce on Regional Climate Modelling and Downscaling (TFRCD) from 2006 to 2009. He was elected as an Officer of the JSC at the 40th Session of the JSC, in May 2019.
Jens has been Professor in climate physics at the Niels Bohr Institute, University of Copenhagen, since 2014. He is also Director of the Centre for Regional Change in the Earth System since 2009 and Scientific Head (Forskningsleder) at the Danish Climate Centre of the Danish Meteorological Institute, Copenhagen. He is an expert in the use of climate models for predicting future climate, an expert on Arctic climate change, and the extremes of temperature and precipitation. Jens has contributed to the third, fourth and fifth IPCC Assessment Reports.
For more information and contact details see Jen Hesselbjerg Christensen's contact page.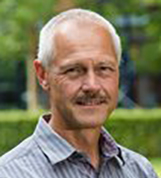 Danish Meteorological Institute


(JSC Officer & Liaison for CliC & RIfS)

Email

This email address is being protected from spambots. You need JavaScript enabled to view it.