Dr. Helen Cleugh was appointed as a member of the WCRP Joint Scientific Committee (JSC) in 2015 and elected as JSC Vice-Chair in 2019.
Dr Cleugh is an atmospheric scientist with almost 30 years' experience combining research discovery, delivery, and leadership. She completed her PhD at the University of British Columbia in Canada, then took up a role as Lecturer at Macquarie University in Sydney in 1987 before moving to CSIRO in 1994.
Her research expertise lies in quantifying the interactions between the land surface and the atmosphere, and their effects on weather, climate and hydrology; and water-use and carbon uptake. This research has provided data, information, and knowledge for decision and policy-makers in government; resource managers; urban planners; and the agriculture sector.
Dr Cleugh was the inaugural Director of CSIRO's Climate Science Centre, from 2017 to 2020. The Climate Science Centre brings together the core of CSIRO's capability in modelling and observing the atmosphere, ocean and climate. The Centre collaborates closely with national and international research partners to deliver knowledge and information products and services to a broad community of research and end-users. She stepped down from this role in January 2020.
In addition to her recent role as Climate Science Centre Director, Dr Cleugh has held numerous leadership positions in CSIRO: she was Deputy Chief of CSIRO's Marine and Atmospheric Research Division (2011 – 2014); and Deputy Director of the Oceans and Atmosphere Business Unit (2014 - 2015) and the Centre for Australian Weather and Climate Research (CAWCR, 2007 – 2009; 2011 – 2014). She was also Co-Chair of the Australian Climate Change Science Programme, which delivered climate science, global and regional climate modelling capability, and the science underpinning regional climate projections for Australia. She also led the delivery of research infrastructure and data supporting ecosystem science via NCRIS TERN as leader of the OzFlux Facility; a national network of flux measurement stations, funded by Australia's National Collaborative Infrastructure Scheme (NCRIS).
Dr Cleugh led the Earth Systems and Climate Change Hub (a research consortium comprising CSIRO, the Bureau of Meteorology and five universities) funded by the Australian government's National Environmental Science Programme from its inception in 2015. She stepped aside from this role to become the Director of CSIRO's Climate Science Centre in February 2017.
For more information and contact details see Helen Cleugh's contact page.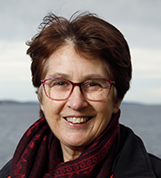 Research Scientist, Commonwealth Scientific and Industrial Research Organisation (CSIRO)

(JSC Vice-Chair)

Email

This email address is being protected from spambots. You need JavaScript enabled to view it.